5 ways to save money, lose weight and get healthier, even during rapid inflation
[ad_1]

Estimated read time: 7-8 minutes
A new survey finds that nearly 9 out of 10 of Americans are highly concerned about inflation.
As consumer prices have soared to more than a 30-year record high, many Americans are looking at ways to save. The study revealed people plan to save by driving less (13% of responses) and put off home renovations (23%), while 48% of those polled said they plan to reduce their spending on restaurant meals and takeout, with 29% looking to save by tightening their food budget.
According to local Utah metabolic scientist and best-selling author, Dr. Ben Bikman, an unexpected benefit to this challenging economic situation is that it offers the additional motivation to take control over your health and weight.
"Healthcare costs are spiraling out of control and will only get worse," said Bikman. "Improving your diet is the single best way to save money and to extend the quality of your life, and there's not a close second."
Bikman shares that with rare exception, the food you'll get from fast food or other restaurants is nutritionally bankrupt, and harms your health and waistline, yet he offers some simple steps people can take to save money while also getting healthier and losing body fat.
Shop your pantry
Bikman encourages taking an inventory of what you already have in your fridge and pantry before grocery shopping.
"Odds are that you already have some healthy food options that can or need to be used before their expiration dates," said Bikman. "By quickly reviewing what you have first, you'll make better and more deliberate food choices that will help you and your loved ones to thrive."
Plan your meals
Developing a weekly menu and then purchasing according to that menu is another key way to save, says Bikman.
"You're more likely to eat the meals you purchase for, versus going into the grocery store without a plan and just buying what looks good," said Bikman. "Most of those impulse items end up being filled with sugar and other junk ingredients that destroy your health and weight."
Bikman says to skip the carbohydrate-heavy meals, however, and focus on planning and preparing meals higher in protein and healthy fats that will help you get healthier and lose weight.
Buy in bulk
"Buying in bulk will cost more money upfront, but you'll pay less per item," said Bikman. "This can help prevent multiple trips to the store, and you can split the cost by purchasing together with a friend or family member."
Bikman advises to purchase metabolically superior foods like beef, eggs, salmon, and more. "You need essential amino acids from protein, and essential fatty acids from healthy fats; there are no essential carbohydrates," said Bikman. "So, put your hard-earned dollars into food that will help you live a lean and healthy life."
Get local
Eating foods in season is another recommendation from Bikman.
"Most everyone can grow a little of their own produce at home in a garden or from small pots and containers," said Bikman. "Your local farmer's market is also a terrific source for quality foods, including buying sides of beef, pork and eggs, which are optimal metabolic foods."
Eat healthier
Most everyone knows that they can and should eat healthier, but Bikman emphasizes that this surprising step may be the single biggest way to save money.
"When you control carbs, prioritize protein and fuel with healthy fats, your health will dramatically improve and you'll get to a healthy weight," said Bikman. "You'll not only look and feel much better, you'll potentially save an incredible amount of money that you'd otherwise spend on healthcare costs."
"A proper diet is the ultimate health insurance," said Bikman.
​​Bringing solutions from his research to the real world
Even with all of the information that Bikman shares in his speeches and interviews, he is constantly asked by people around the world what they should do for their health.
"Ideally, we all would have the knowledge, time, discipline and budget to plan, purchase and prepare perfect meals," said Bikman. "But it simply doesn't happen; people get busy, they get stressed and they make unhealthy choices that derail their health goals."
Bikman realized that he needed to be part of the solution to help people achieve their best health more quickly, and especially to assist those that don't always have the time, knowledge or discipline to eat healthy. In response, Bikman and his co-founding team of nutrition and industry experts recently created HLTH Code Complete Meal.
Bikman says these carefully formulated meal shakes are designed to promote healthy weight management, gut health, brain health, even hair, skin and nail health. HLTH Code Complete Meal features an optimized, science-backed blend of protein, collagen, healthy fats, apple cider vinegar, probiotics, fiber, vitamins and minerals—with no added sugar or any artificial ingredients.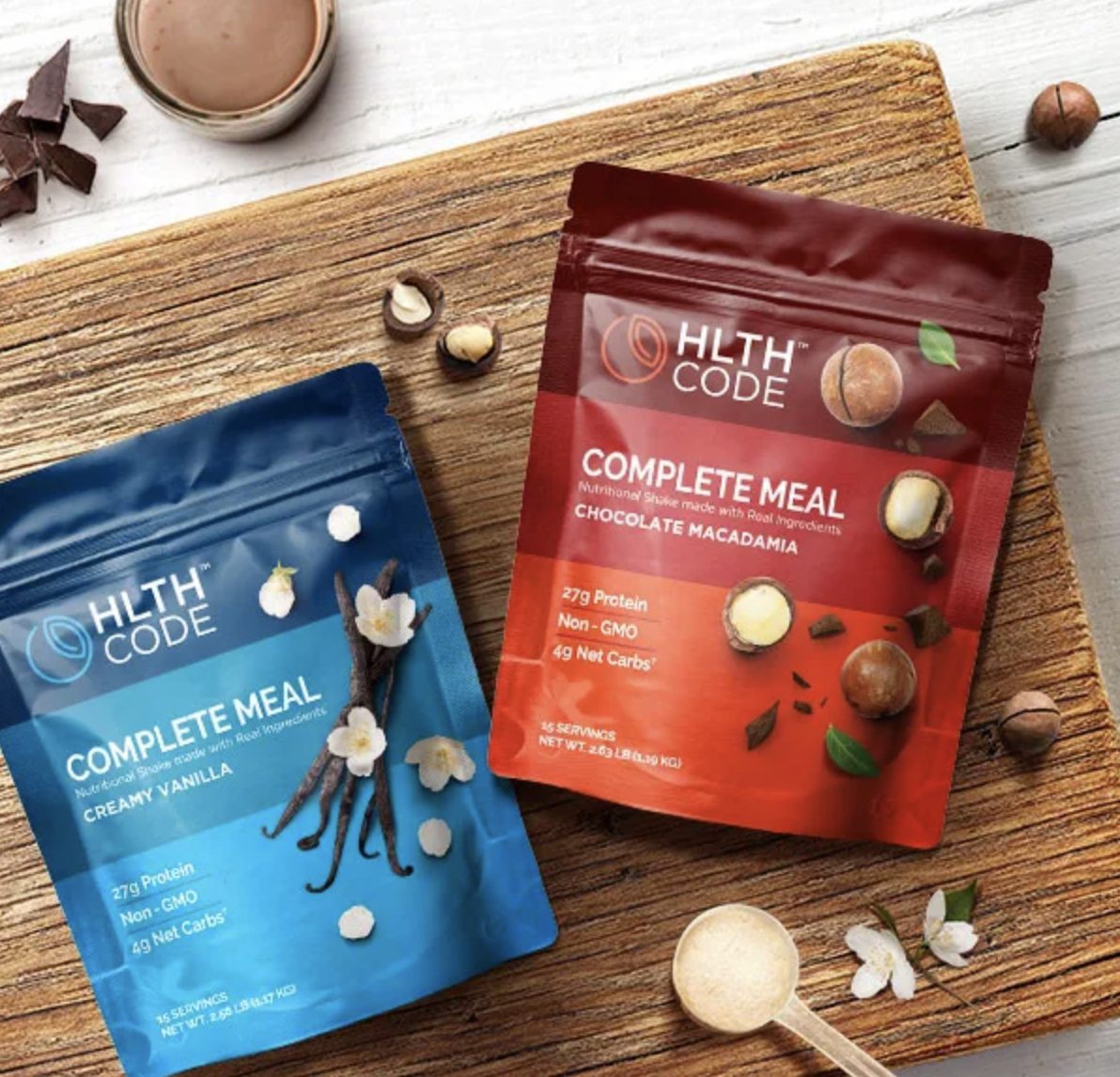 "HLTH Code Complete Meal is based on research, not fads," said Bikman. "An incredible amount of work went into making this nutritionally balanced and optimized, yet it also tastes really good so you won't feel deprived."
Nutritionally complete and cost-effective
"Each HLTH Code Complete Meal shake is packed with optimized amounts of beneficial ingredients to leave you feeling full and energized for hours," said Bikman. "Yet, at $3.33 per meal, it's more convenient and affordable than virtually any meal you could make or buy."
Bikman says the shakes are quick and easy to make: Just add two scoops of Creamy Vanilla or Chocolate Macadamia Complete Meal Powder to 8 oz. of cold water and shake or blend. For general wellness, he recommends replacing one meal daily. To reset your health or for weight loss, replace up to two meals per day.
"It keeps me feeling full. I was having mental fog before and just felt weak. I started this and can't believe how much better I feel. And I've lost 10lbs. Now members of my family are using it," said one reviewer.
Another reviewer shared, "This is the best protein-based meal replacement I have ever tried. The ingredients are so well balanced for proteins, fats, fiber, digestive enzymes, and probiotics. The flavors are amazing and it mixes so well to create a smooth and creamy shake. Best product in its class by far. My new go to!"
Yet another reviewer said, "My metabolism is responding to whatever is in this shake. I haven't changed anything in my exercise or diet, except drinking this shake each morning, and the last few pounds I have been trying to lose are finally coming off. I love that it takes the guesswork out of fueling my body correctly to regulate my metabolism."
Does HLTH Code improve health and encourage weight loss?
According to Bikman, the best health starts with the right blend of nutrition. Increased energy; feeling more vibrant; a stronger immune system; a clearer mind; improved gut health; and an improved appearance are some of the benefits from improving one's nutrition.
"The comprehensive benefits of HLTH Code Complete Meal are especially helpful if you're trying to lose weight," said Bikman. "Weight loss is rarely easy. There has to be the right changes in both hormones and caloric balance to signal to the body that it's time to start burning, not storing, fat."
Bikman adds that based on the best available studies on human metabolism, along with exercise, HLTH Code Complete Meal helps people lose weight without the need for counting every calorie.
Satisfaction guaranteed
If you're nervous about trying something new and making changes to your nutrition plan, don't be. Bikman stands by his HLTH Code Meal Replacement products and is willing to guarantee your satisfaction.
"You have nothing to lose (except those extra pounds) and everything to gain—in terms of wellness and confidence," said Bikman.
Indeed, if you've been looking for improved wellness and healthy weight management, then HLTH Code Complete Meal Replacement could well be your answer. For exclusive savings on your first order, visit getHLTH.com and enter the discount code KSL at checkout.
×
More stories you may be interested in
[ad_2]

Source link