Farm to Fit Delivery of Healthy, Ready-To-Eat Meals, is Expanding into Thurston County
[ad_1]

Farm to Fit is expanding into Thurston County. And that is good news for those of you who are running out of healthy meal ideas, are worn out from cooking three meals a day or need creative holiday gifts. Farm to Fit not only prepares meals for you, it also delivers them to your doorstep. They will begin meal deliveries in Thurston County on January 3. Use discount code Thurston10 for 10% off your first order, valid through February 14, 2022.
"We've wanted to move north for quite some time and, since Olympia is close to our hearts, there seems like no better place to start," says G. Scott Brown CEO and co-founder.  "Once we are established in Olympia, we will continue to head up the 5 with Tacoma next on the list."
Farm to Fit's menus feature nutritious breakfasts, lunches and dinners. Fresh, not frozen, meals arrive at your home or office, fully prepared, and ready to eat after a quick re-heat in the oven or microwave. Farm to Fit provides complete ready to eat meals, not meal kits. Menus are seasonal and change weekly, using local vegetables and no preservatives or additives.
A Fresh and Fit Beginning
Farm to Fit started in 2011 when married couple Brown and Dré Slaman, co-founder and COO, launched their Portland business. Back then, they ran the operation with one chef, out of a shared commercial kitchen. They expanded into their own larger commercial kitchen and currently employ 30 team members. They offer meal delivery services in the Portland region, as well as Salem, Vancouver and Camas. The company is now ready to head north. "We are getting the word out now," Brown says in explaining the planned growth. "Drivers will come up from Portland. Once we are established there, we will begin to hire locally. That's the hope."
Brown is a Louisville, Kentucky native who received his undergraduate degree from The Evergreen State College and his master's degree in acting in Illinois. He met Slaman when she was also obtaining her master's degree in the same graduate program. Slaman grew up in San Diego and has a family business background. She is also an actor who can be seen on TV, film and theatre in the Portland area.
Brown and Slaman believe in healthy and balanced eating, using fresh, local products. Their interest in food sparked their meal delivery service, which offers nutritious options with a Northwest vibe. "'Delicious, healthy, easy' is our motto," says Brown. "We want life-long customers."
What's on the Menu
Brown says they began with three calorie-specific meal plan options and have since broadened selections. "Our meal plans evolved," he explains. Farm to Fit now provides multiple meal plans to serve varying preferences. Those include options for not only clients seeking meals with calorie limits, but also those who want plant-based foods; paleo diets emphasizing fruits, vegetables, nuts and meat; diabetes-friendly foods; gluten intolerant; low-carbohydrate choices; Whole30-approved meals; and a keto menu with low carbs, and high fats and proteins.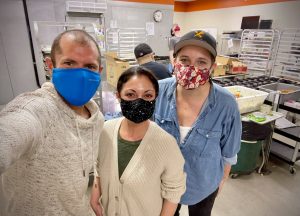 "Each week, we have 18 different meals, in general," Brown says. "And, we have 12 signature dishes that we offer at all times – four breakfasts, four lunches, and four dinners." He says the meals vary from traditional American fare to dishes from around the world. He says one of their most popular meals is Tuscan beef stew, which has been on the menu since they opened.
Farm to Fit develops menus in four phases through a collaborative effort. In the inspiration phase, the chefs decide on meals that inspire them, are delicious, and will satisfy clients' tastes. The deliciousness phase is where chefs create the recipes and test them for flavor. Next comes the nutritious phase where the nutritionist analyst establishes ingredient portions. Finally, the quality phase means that after delivery, the team re-heats and tastes each dish, mirroring the clients' experiences. Each team member evaluating the meal grades the recipe and suggests tweaks for flavor and consistency. This process means recipes continue to evolve. "We want quality assurance," Brown says. "We are always trying to improve."
Clients can order as few as 3 or as many as 21 meals per week through single orders or ongoing subscriptions. Brown says most people get between 6 to 10 meals per week. Deliveries to Thurston County are on Mondays and Thursdays. Clients need to submit orders six days prior to the delivery day.
Drivers deliver meals to clients' home or office doorsteps in handy cooler bags with ice packs and responsible packaging. Then they simply put the empty bag back on their doorstep and the driver picks it up with delivery of the subsequent order. Farm to Fit offers the flexibility of ordering week-to-week or signing up for a subscription.
More information on Farm to Fit, including menus and ordering and delivery details, is on its website. Thurston County ordering information will be located online here. Holiday tip: Farm to Fit provides gift cards if you are interested in giving someone else a break in making healthy meals.
Farm to Fit
5411 NE Portland Hwy
Portland, OR 97218
503.688.9248
info@farmtofit.com
Sponsored

[ad_2]

Source link