Muncie Action Plan Task Force 1 Links Learning, Health and Prosperity — Muncie Journal
[ad_1]

By Chuck Reynolds—
MUNCIE, Ind.– The Muncie Action Plan (MAP) spent much of 2021 in partnership with representatives from Delaware-Muncie Metropolitan Plan Commission and NEXT Muncie surveying Muncie's citizens and working with the urban planning firm czb in the development of the new Strategic Investment Plan for the City of Muncie
The last large-scale MAP planning took place in 2009 and although two updates have been completed since, we are excited to put into place the newest large-scale engagement effort where Muncie's residents helped create a new vision for Muncie's growth and investment.
As we close out this year, we would like to share MAP's successes as we approach our Annual Community Meeting on January 26th that will be both open for the public to join online (click here to register) and streamed on Facebook Live. Each of our five task forces will share the work completed during 2021. This is the first of five reports from our task force leaders.
Muncie Action Plan's Task Force 1 leads the charge of linking learning, health, and prosperity within our community. 
We continue to adjust to the new normal COVID-19 society where we identify, address, support, adapt, and repeat.  For MAP Task Force 1 (TF1), overcoming the new normal was no different; however, we continued to champion our Web of Support and By5.
Muncie's Web of Support: Everybody Succeeds is a program initiated by the Muncie Action Plan in 2019 and administered by Zyra Zylstra and the Future of Work. Described as "a local mentoring initiative that uses a relational approach to help youth and adults identify, expand, and strengthen their own support systems." The Web of Support aims to develop youth through every aspect of their lives.  TF1 has the ultimate goal of creating a rich web of caring adults to guide youth in making healthy lifestyle choices and to create connections through mentoring that will keep youth and adults engaged in learning and community.
Over the spring and summer of 2021, Zyra Zylstra and a team of young leaders created two videos to promote and describe the Web of Support through our "napkin talk" and community sidewalk interviews on how people measure love.   These powerful videos speak to the importance of supporting our youth through healthy relationships. A special "Thank You" to our Web of Support Summer Action Team and summer interns! We are excited to unveil the community video projects and the many connections that will be made to web up our community.
Web of Support Summer Action Team 
Megan Arnold, Heart of Indiana United Way
Brookelynn Brown, Intern- 2021 MCHS Graduate
Tara Gudger, Muncie Community Schools
Hope Lehman, Muncie Area Youth for Christ
Allison Robbins, Aspect 6 Creative
Brooke Stallings, Intern- 2021 MCHS Graduate
Zechariah Wright, Intern- 2021 MCHS Graduate
A terrific example of "webbing-up" in our community is the Retirees Entrepreneurial Club. Zyra describes this support system as an intergenerational group who draws on the strength of its collective experience to support its members as they embark on post-workforce business projects. The group, which meets at Madjax, also offers networking opportunities and cross generational partnership opportunities.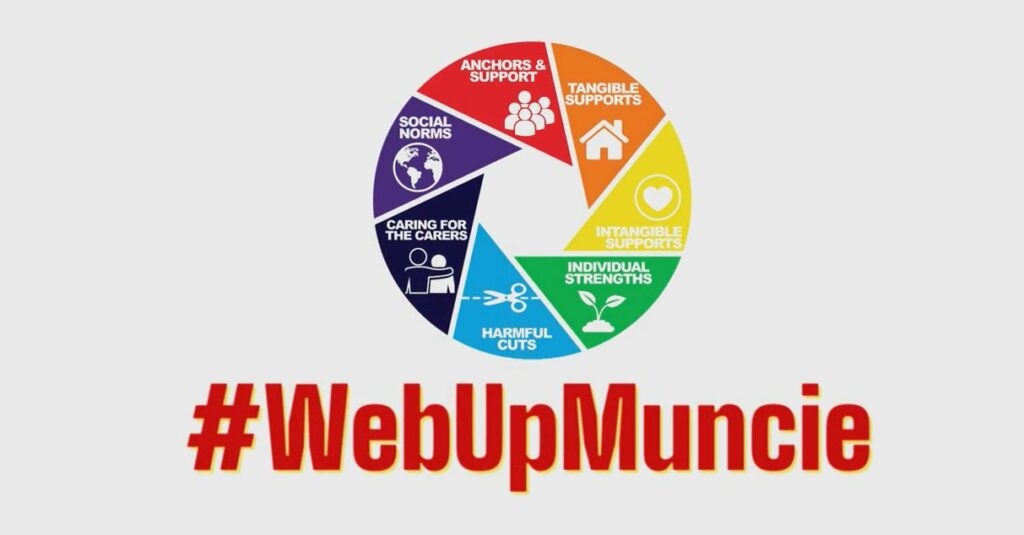 As we look ahead to 2022, we are searching for a sustainable home for Web of Support.  We are having conversations with many community leaders and partners to find the best organization to carry the torch for the Web of Support.  If you are a part of an organization whose vision and capacity aligns and you might be interested in supporting, please reach out to Chuck Reynolds at chuck.reynolds@muncieschools.org
Additional information and Web of Supports resources can be found here:https://sustainablemuncie.org/web-of-support-ambassadors-share-messages-of-gratitude-and-affirmation/
Web of Support Introduction Video

We know that access to strong early learning opportunities and high-quality childcare are critical to our community's long-term prosperity. Through the pandemic, early childhood care has been identified as a major economic driver, surprising many of our business and industry leaders with its impact. Early childhood efforts in 2021 have focused on helping our providers meet unexpected costs and attract and maintain a quality workforce.
Workforce issues are the number one concern among today's providers; the work is hard, requires specific education credentials, and the pay is low. BY5 is supporting providers in identifying ways they can increase pay and benefits to retain and attract caring professionals.
Providing high quality care and education requires the use of a standardized play-based curriculum at the preschool level.  In 2021, BY5 worked to identify the best curriculum and will partner with Ball State University professors to provide this curriculum and necessary training to several preschool programs during 2022. We hope that this group will serve as a pilot group for the expansion of the use of strong curricular tools.
The pandemic has had varying effects on all of us and children are not immune. Many providers report seeing more frequent and severe behavioral issues in recent months from the children in their care. BY5 is working with our mental health partners to help mitigate some of these issues for the children, their families, and the early childhood professionals who care for them.


[ad_2]

Source link